Spirit of Enderby Heads South
8 November, 2018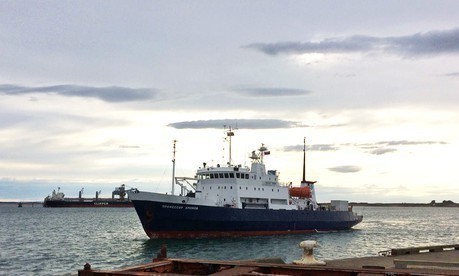 Image: Heritage Expeditions
Heritage Expeditions' popular polar research ship Spirit of Enderby (Professor Khromov) is back in New Zealand waters, arriving in the port of Bluff this week following a successful series of voyages in the South Pacific. With preparations now underway for the upcoming southern season, the recently-refurbished, ice-strengthened expedition vessel departs next week on one of Heritage Expeditions' 'signature voyages' Birding Down Under (11 Nov - 20 Nov).
Renowned the world over, Birding Down Under explores New Zealand's Subantarctic Islands, the breeding grounds for more than 40 species of seabirds including 10 of the world's albatross species, as well as the Chatham Islands and Australia's Macquarie Island. It is followed by Macquarie Island: Galapagos of the Southern Ocean (29 Nov - 11 Dec & 22 Dec 18 - 3 Jan 19), a journey into Australia's 'Icy Outback' - the wildlife haven of Macquarie Island and the UNESCO World Heritage Sites of New Zealand's Subantarctic Islands; and Beyond Fiordland: New Zealand's Wildest Islands (12 - 22 Dec) where Fiordland's jaw-dropping ice-carved mountains, forests and fiords join flourishing wildlife on Stewart Island's Ulva Island and the remote, rugged beauty of New Zealand's Subantarctic Islands. This year the Beyond Fiordland voyage also includes a complimentary scenic helicopter flight (weather dependent) with Southern Lakes Helicopters and final cabins are still available - find out more here.
Spirit of Enderby's final Subantarctic Islands voyage for the season concludes with the ultimate wilderness expedition Forgotten Islands of the South Pacific (4 - 11 Jan 19) where guests will experience first-hand the spectacular and rarely visited UNESCO World Heritage Sites of New Zealand's Campbell, Auckland and Snares Islands before the Antarctica expeditions commence.
We look forward to meeting up with passengers in Bluff next week ready for an exciting adventure around the Subantarctic Islands - see you soon!