26 Aug 2013
Galapagos of the Antarctic
GALAPAGOS OF THE ANTARCTIC by Rodney Russ and Aleks Terauds
Wild Islands South of New Zealand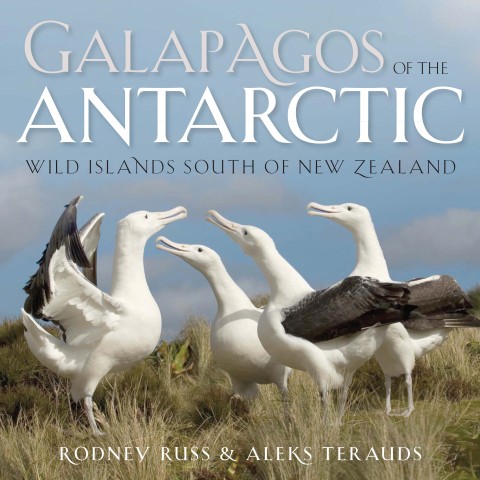 Format: Hardback, 224 pages, 1 Edition
Published in: NZ, August 2009
Publisher: Heritage Expeditions
ISBN: 978-0-473-14635-1


Price: US$45 plus postage
Contact Us to order this Book!

With decades of experience between them working and living on these islands, the authors of Galapagos of the Antarctic, Rodney Russ and Aleks Terauds, are well placed to take the reader on this journey through the seven oceanic remote islands to the south of New Zealand.

Beautifully illustrated with photographs by Nathan Russ, Aaron Russ and Aleks Terauds, and stunning artwork by Fiona Stewart, Galapagos of the Southern Ocean captures the essence of these wild and beautiful places. For those that have visited these islands it will provide a poignant reminder of what they have seen, and for those yet to get there and armchair travellers, it offers a whole new world to explore.

This book takes the reader on a journey through the Chatham Islands and moves east to west through the Bounty Islands, Antipodes Islands, Campbell Island, Auckland Island, The Snares and Macquarie Island. The story tells of a unique wonderland of abundant wildlife, unique geology and rich human history. These islands have long been renowned for their biodiversity; from the fantastic megaherbs which grow only there, to the millions of penguins and petrels that come ashore each year to breed, making them extremely important wildlife refuges. Each group also has a fascinating and unique geography and geology. Some are relatively young volcanic islands while others date to the ancient remnants of the basement rock that made up Gondwana.

These island groups also have a story to tell in terms of human history. Most were first discovered in the early 1800s and exploited for their natural resources. There is still some form of human presence on most groups today, but they are now treasured more for their intrinsic value as wild and beautiful places, and considerable effort is being spent on restoring them to a pristine state. The reader is taken on a journey through this transition, with all elements of the history of each island group covered in detail and complemented by striking historical images.

Motivated by a love of these wild and remote places and a strong desire to promote their conservation, Galapagos of the Southern Ocean is unique in its breadth and detail. As a memento, research for a future expedition or simply a jolly good read, it offers something for everyone.


About the Authors
Rodney Russ has had a long association with Subantarctic Islands and Antarctica. The years and numerous expeditions spent exploring these regions have provided him with an intimate knowledge and an appreciation of the enormous value of these regions. As a biologist he has dedicated the last 24 years to Expedition Travel recognising and promoting its importance as a tool in conservation. His company, Heritage Expeditions, founded 1985, has pushed boundaries and pioneered exciting expeditions in the Southern Ocean and more recently possibly one of the last frontiers for travel, the Russian Far East.

Dr. Aleks Terauds has spent most of his working life studying wildlife in the Subantarctic. He is passionate about conservation and management of these islands, a keen wilderness photographer and writer of natural history books and photography. Spending several seasons on board the Heritage Expeditions vessel Spirit of Enderby as a guest lecturer he enjoys sharing his love of the untamed wild islands south of New Zealand and the remote Russian Far East with expeditionary travellers.
Reviews
This handsome book provides a wealth of information, accompanied by many stunning images, about the history, geology, flora and fauna of these remarkable island groups, seven in total, including Australia's Macquarie Island, that puncture the stormy Southern Ocean in the Roaring Forties and Furious Fifties. While they have many characteristics in common - from sealing depredations and shipwrecks to endemic species of plants and birds, some of them the rarest of their kind in the world - each has its own special flavor. It is a joy to visit them in the pages of this book, which demonstrates fully the authors' knowledge and love of their subject.

Essential reading before any trip to these islands - and a treasured souvenir of such a visit!

LOUISE CROSSLEY
Louise first went to Antarctica in 1991 as a station leader at Mawson, and has completed three winters and three summers with ANARE as station, field and voyage leader.
She has written two books and several encyclopedia articles, on the history of Polar exploration. Since 1994 she has worked as a guide/lecturer on Antarctic cruises to the Peninsula, South Georgia, the Weddell Sea, the Ross sea and East Antarctica, including three semi-circumnavigations; as well as Arctic voyages to the Russian Far East, the North West Passage and North Pole.

Many publications have appeared on the sub-Antarctic Islands of New Zealand and Australia. These have usually focused on the unique natural environment and diverse human history, of individual islands and island groups. For Galapagos of the Antarctic I was initially drawn to the striking cover and title. However given that the books content is by way of uniqueness, similar in respects to the East Pacific island group, this is entirely appropriate.
Galapagos of the Antarctic is a beautiful, carefully thought out book, I am proud to have in my library. A perfect combination of authors and co-contributors has ensured the 224 page hard-back does indeed also portray the islands as having 'an intrinsic value as wild and beautiful places.'
Apart for the fine photographic images including double page spreads, beautiful art work with fauna and flora and clear yet simple maps, along with text having a similar format for each island or group, means Galapagos of the Antarctic is a book one can delve into time and time again. The succinct, easy-to-read sections explain location, have an introduction and describe the flora, fauna, human history, management and science. Final chapters briefly mention tourism, pest eradication, exploitation of living resources and management. A comprehensive Bibliography revealing the scope of research by the authors along with a detailed Index makes Galapagos of the Antarctic an essential resource for reference.
I now have a greater appreciation of these special places which I am fortunate to have visited and the need to advocate their protection for future generations. Galapagos of the Antarctic is a book that cannot be faulted. There is something of interest for everyone and the authors and co-contributors are to be congratulated for such a beautiful, useful and timely publication.

DAVID HARROWFIELD – LECTURER
David L. Harrowfield has a life-long interest and career associated with Antarctica. He has made numerous visits to the Ross Sea region with New Zealand's Antarctic programme, along with the Antarctic Heritage Trust. Other visits have included field work with Australia's Antarctic programme and lecturing on the Antarctic Peninsula, the Ross Sea and in East Antarctica with Heritage Expeditions.
A graduate of Canterbury University, his post-graduate research focused on the unusual wind regime at Cape Adare and impact on the oldest wooden buildings in Antarctica. He has published extensively and is a frequent visitor to the Scott Polar Research Institute UK. His latest book concerns the 100 year Antarctic connection of his home town and a history of New Zealand mountaineering is to be published in 2013. Present research concerns Antarctic science in the Ross Sea region including that by New Zealand.
David lives in Oamaru on the east coast of New Zealand and is developing an Antarctic education programme for visitors to the town. Other interests include the geology and archaeology of North Otago. He looks forward very much to partaking in the experience of Antarctica and the sub-Antarctic islands with you

Travel to these Islands
Heritage Expeditions travel to the Subantarctic Islands multiple times per year. For more information about these islands, including how to get there, click here.