12 Apr 2017
Meeting the Locals on Ugi Island
12 April
Today we made our landing onto Ugi, for a morning full of birding and exploring the village. An interesting note is that we were the first ever tourists to pay a visit to this very small island which is only inhabited by a few villages. Around a 100 people gave us a very warm welcome with traditional handmade necklaces for every passenger and a very entertaining bamboo flute session. Afterwards the Zodiacs took the birders to a nearby forest where they witnessed a great walk through the Ugi jungle. Among the birds spotted were the White-headed Fruit-Dove, Chestnut-bellied Imperial Pigeon, Ugi Chestnut-bellied Monarch, Makira Flycatcher, Island-Imperial Pigeon, Cardinal Myzomela and the Rufous Fantail.

With the help of two local guides and more than 25 curious children who assisted them the rest of the group made our way through the village, where we were greeted by the very hospitable villagers who showed us their homes and other facilities. After this tour we had the chance to cool down in the pristine ocean followed by some freshly prepared coconut water.
Before we left Ugi to continue our journey north to Honiara, Dr. David Monks donated much needed medicines for the village hospital and Helen Ahern, our cruise director, with her not-for-profit project 'Learning Resources for Villages' gifted boxes of New Zealand reading books to help children learn English which were gratefully received.
Next stop the Solomon Islands capital city of Honiara.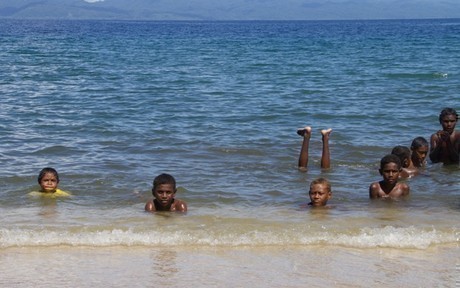 ©Helen Ahern