Zodiac Cruising Bukhta Preobrazheniya
9 July, 2019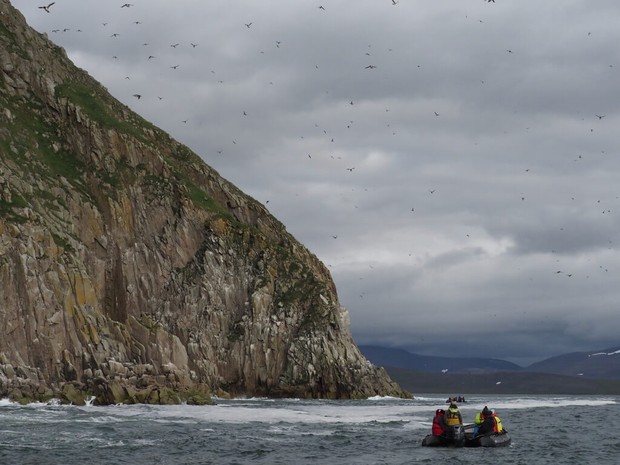 Image from file (c) D.Brown
Our first official day of our 'Chukotka: Where Russia's Day Begins' expedition aboard Kapitan Khlebnikov and we woke to radiant sunshine, a cloudless azure sky and calm, glistening seas. This morning was dedicated to staff introductions, orientation briefings and safety drills followed by a delicious Russian lunch featuring traditional beetroot soup borscht.
This afternoon we loaded into the Zodiacs to explore the towering cliffs of Bukhta Preobrazheniya (Transfiguration Bay). A favourite destination for migrating Auk colonies during summer months, these soaring, fragmented rock formations provide ledges, cracks and hollows for nesting Kittiwakes, Guillemots and Puffins.
Cruising along the water's edge we spotted Horned and Tufted Puffins, Guillemots and Pigeon Guillemots, Pelagic Cormorants, and countless Kittiwakes, Crested and Parakeet Auklets. Our first Zodiac group to set out came across several Resident Orca/Killer Whales just off the side of their Zodiac, returning with a great story of their close encounter.
Next stop - the Yttygran, Nuneangan and Arakamchechen Islands.