Surrounded by Snares Crested Penguins
1 December, 2018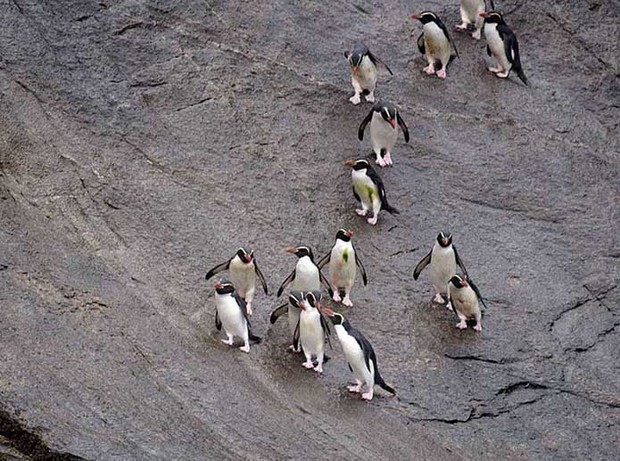 Image (c) K. Richter
The jagged outline of the Snares loomed out of the low cloud as Spirit of Enderby pulled into the first stop on our voyage just before breakfast.
With the low cloud burning away to reveal surprisingly calm conditions and a gentle swell, a morning of Zodiac cruising the rugged, wildlife-filled coastline was on the cards.
Out on the water we were greeted by hundreds of Snares Crested Penguins, the dapper birds were everywhere we looked - rafts surrounded our Zodiacs, while others peered out at us from under the Tree Daisies on shore and more still watched with interest from the rocky outcrops giving all on board some amazing encounters.
Navigating the imposing coastline of the archipelago's North East Island en route to its famed Penguin Slide we passed New Zealand Fur Seals basking in the early morning sun and kept an eye out for Antarctic Terns, Tomtits and Buller's Albatross before encountering the astonishing sight of rafts of hundreds of black and white Cape Petrels feeding.
A quiet awe filled the Zodiacs as we took in the flurry of raucous activity around us before making our way around to check out the reliably amusing antics at the Penguin Slide. With conditions as good as it gets at the Snares, we took the opportunity to circumnavigate the island. After being spectacularly dwarfed by the imposing east coast cliffs, we bid our farewells and headed back to Spirit of Enderby, bound for Enderby Island.