Resighting of Mysterious New Caledonian Storm Petrel
22 March, 2019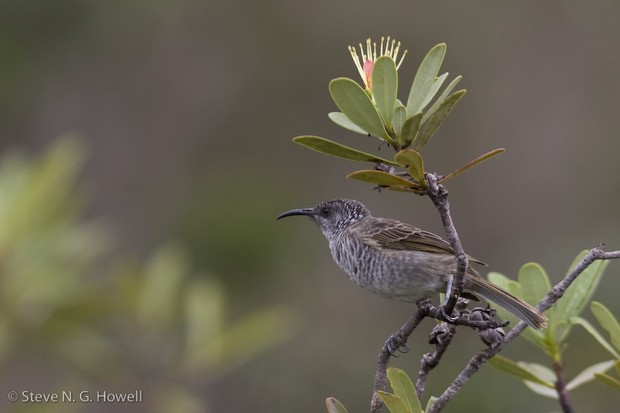 Image: Barred Honeyeater (c) S.Howell
A wake up call at 0400 was a shock for many after a long day yesterday. Still, with stamina and passion, the majority joined Day 2 of our stopover at New Caledonia with an early morning departure by minivan up to Mount Koghi. The birding started as soon as there was enough light to see, with some heading into the forest while others walked the road. A lucky few saw the extremely elusive New Caledonian Grassbird (Thicketbird) and others the South Melanesian Cuckooshrike, Red-throated Parrotfinch and Barred Honeyeater (pictured).
We weren't expecting to be in the midst of a local protest demonstration in the streets of Noumea on our return, although it just added to the adventure as a trail of khaki-clad birders weaved their way back to the ship through the colourfully-dressed chanting locals! In good spirits we were all on board Spirit of Enderby on time with our Pilot joining us soon after.
Navigating the tropical reef systems we sailed out the Dumbea Passage and into 14 -15 knot winds. After turning to starboard and tucking into the coastline we had a few target species we were keen to see - including the bird now dubbed the 'New Caledonian Storm Petrel', a mystery bird which was first seen on the 'Western Pacific Odyssey' in 2008 and is now believed to be the same species as a long-lost bird from Samoa. As luck would have it, there were several sightings made by a high number of birders who were out on deck. Excellent pre-voyage planning allocated extra time into our sailing schedule enabling us to manoeuvre the ship to get the best chance of sightings during daylight hours and the decks were well monitored by delighted guides and birders alike.