New-born Sea Lion Pups and Yellow-eyed Penguins
15 December, 2018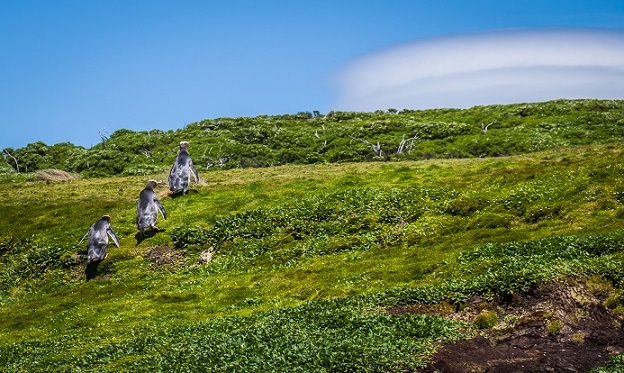 Image: (c) T Kraakman
Having experienced a taste of the power of the Southern Ocean overnight, many were surprised to wake to splendid Subantarctic sunshine at our anchor off Auckland Island's Enderby Island. Greeted by Hooker's Sea Lions littering the beach at Sandy Bay, expeditioners trekked through the wind-pruned corrigations of Rata forest onto the boardwalk through tundra-like vegetation and on to fields of megaherbs - the golden heads of the Bulbinella rossi stretching into the horizon atop a carpet of moss studded with tiny orchids and Enderby Island Gentian creating the perfect Kodak moment.
As energetic voyagers continued on the 11-kilometre loop of the island - short walkers returned to Sandy Bay to watch troops of Yellow-eyed Penguins waddling to and f rom the shore to feed hungry chicks and witnessed the rare and special sight of two Hooker's Sea Lions giving birth amid territorial disputes between bolshy males and opportunistic Skua fighting over afterbirth.
Our long walkers returned with sun-pink faces at the end of the day sharing tales of ominous UFO-shaped clouds suspended in the sky, watching tiny Auckland Island Tomtits flitting between megaherbs above a Giant Petrel chick patiently waiting for its next feed, Southern Royal Albatross nesting and spotting Auckland Island Banded Dottril, Teal, Snipe and Shag, the latter with beaks filled with nesting material, Red-crowned Parakeets and taking a moment to appreciate a Bell Bird singing amid the flame-tipped Rata forest canopy.
After watching the Sea Lion politics play out around the nursing pups, one fearless voyager celebrated the day taking a bracing dip in the Subantartic waters before heading back to Spirit of Enderby in the Zodiacs. Our debrief that night included the special viewing of footage from the Island in 1954 (when French Blue Rabbit and Elephant Seals still lived there), kindly shared by one of our expeditioners whose father was one of three men who took part in a Dominion Museum/Department of Scientific and Industrial Research expedition back then.