Island Hopping in Dusky Sounds
21 December, 2018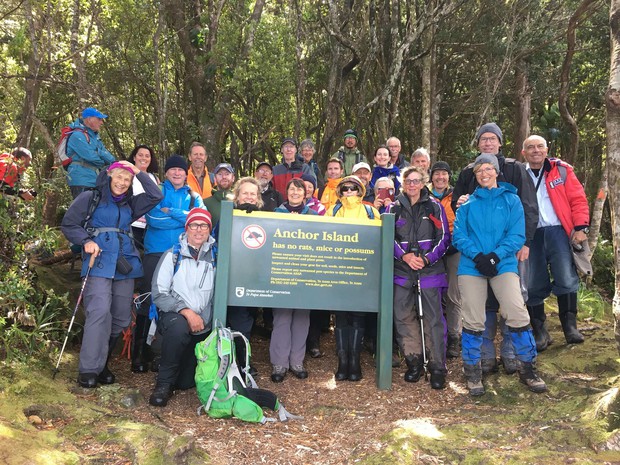 Image (c) C Todd
Still buoyed from yesterday's high, our voyagers started with the day with a pre-breakfast Zodiac cruise navigating the network of tiny islands and atolls of Dusky Sounds. Joined by playful New Zealand Fur Seals in the water, and others hauled out on rocks napping, exceptional orchid specimens were spotted growing off moss-covered branches hanging over the water alongside Rata in bloom and clusters of alpine tree daisies.
Following breakfast on Spirit of Enderby we make our way round to predator-free Anchor Island - home to half the world's population of Kakapo, as well as Little Spotted Kiwi. While we don't see either nocturnal bird ("They're not like the kiwi on Stewart Island, on-board Department of Conservation guide Lindsay Wilson advises of the latter, "they don't come out during the day.") there are certainly signs of them with feathers and many potential burrows spotted.
Crossing tannin-stained streams as we walk around Lake Kirirua, its calm surface reflecting the forest-fringed edge makes for some great photos, we arrive at Luncheon Cove location of New Zealand's first home and shipbuilding where we enjoy the company of a still wet rambunctious New Zealand Fur Seal returning from a morning fishing trip.
With the sun back out and Fiordland treating us to a third amazing day, there's time for a final Zodiac cruise before Ed and Damien from the galley treat us to a fittingly spectacular five-course feast in Ice Culture restaurant followed by farewell drinks in the bar as we sail towards Bluff and the sun sets on a memorable 'Beyond Fiordland: New Zealand's Wildest Islands' voyage.