Intimate Encounters with Yellow-eyed Penguins on Enderby Island
9 January, 2019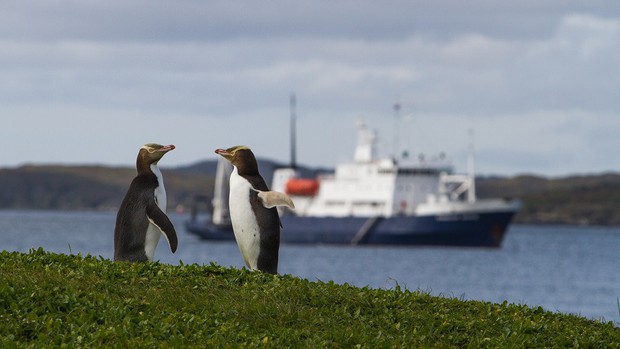 Image (c) R Sagar
Enderby Island greeted us with gusto on the morning of Day 6 of our 'Forgotten Islands of the South Pacific'. The calm of Port Ross gave way to the rumble of a northerly wind and the howl of sea lions on the shore. Shrieking Northern Giant Petrels greeted us on shore, while a screeching New Zealand Falcon gave a flypast as we gathered above the beach.
We split into two groups, long and short walkers. The weather wasn't keen to play fair today, though beaming smiles and laughter penetrated the soaked clothing and persistent rain with ease.
Highlights are always endless here, and it is easy to see why our vessel was named Spirit of Enderby. Yellow-eyed Penguins gave many intimate encounters, and the sea lions were well behaved. Light-mantled Sooty Albatross, as always, stole the show, but Auckland Island Flightless Teal were also well received. With all on board by 1600 hours and with the weather charts in hand, we made the decision to lift anchor early and make our run to The Snares.