Heinroth's Shearwater spotting and Kolombangara Island Visit
29 March, 2019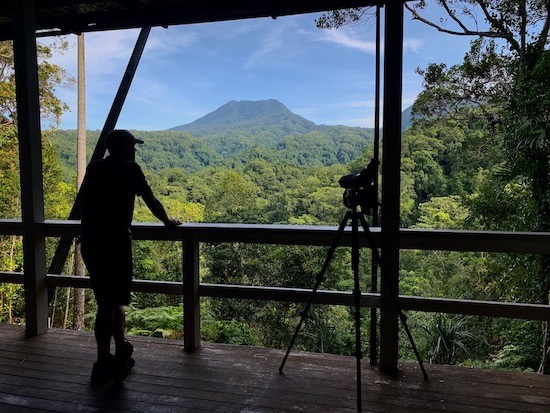 Image (c) H.Ahern
It was another early morning wakeup call as we prepared for big day on Kolombangara Island, part of the Solomon Islands New Georgia chain of islands. By 0700 hrs we were ashore at Ringgi Cove and ready to be transported up into the hills to visit the unique Imbu Rano Lodge. The Island has a very successful forestry and conservation management system, supplying sustainable hardwood production with significant areas of conservation land providing essential habitat to the wildlife.

Perched atop a ridge overlooking the Vila River valley and Kolombangara crater rim, the Lodge proved an excellent viewing platform for bird watching in the slightly cooler mountain air. We remained here for some time, reluctant to break the spell, soaking up the extraordinary scenery. Great views of Pale Mountain Pigeon, and Solomon Islands White-eye were had at the lodge, and much more was seen on the access road. Sought after species such as Roviana Rail (seen by a lucky few) and Kolombangara Monarch, Duchess and Meek's Lorikeet (seen well by all) as well as a host of other endemics which had been seen previously, kept everyone happy.
When it came time to leave, the Solomon Islands gave us a great send off with some large pods of cetaceans: Fraser's and Spotted Dolphins (both 30+ animals) and a couple of Dwarf Sperm Whales. The real bonus for the birders was the delaying orbit which the ship took - a wide circuit of the Vella Gulf - to put us into position at the right time to catch the Heinroth's Shearwater. The manoeuver worked so well! Everyone on deck got excellent views of several individuals and was a great way to end the day on a high.