Going with the Floe at the Shantar Islands
14 June, 2019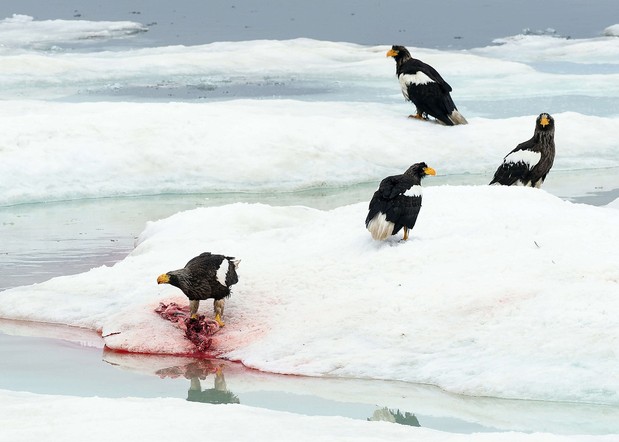 Images (c) D.Brown & C.Collins
The late ice around the Sea of Okhotsk's Shantar Islands has provided guests aboard Spirit of Enderby with some mind blowing wildlife encounters, as well as giving us the rare opportunity to enjoy walking on an ice floe.
There have been numerous highlights as we spent several days exploring the 15 islands of this magical archipelago - Zodiac cruising among more than 20 Ribbon Seals in the water and on the ice, Largha Seals and over 50 Steller's Sea Eagles soaring above and on the ice - including 6 on one floe feeding on what appeared to be the remains of a seal.
But it was Zodiac cruising among hundreds of Beluga Whales feeding in the clear waters of Tu Gurskiy Gulf that would leave everyone speechless. Even our most seasoned expedition team members were left awe-struck as these majestic creatures swam all around and under our Zodiacs hunting and herding fish accompanied to the unique soundtrack of whale clicks. This rare and humbling encounter was made all the more special when we spotted a Brown Bear lumbering along the shore.
The islands also catered to our birders who were suitably wowed when we encountered around 500 Spectacled Guillemots feeding off Belichiy Island - seeing these birds in these numbers was also a first for even our most senior ornithologists. Having set a very high bar for the rest of the voyage, we leave the Shantar Islands with many fond memories as our Russian Far East voyage of the Sea of Okhotsk continues.