Exploring Carnley Harbour and Musgrave Inlet
16 December, 2018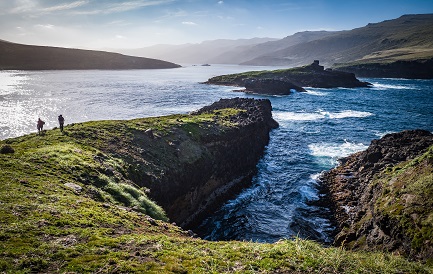 Image: (c) T Kraakman
It was another day in Subantarctic paradise as Spirit of Enderby's bow knifed through the glassy water sailing into Carnley Harbour on Day 5 of our 'Beyond Fiordland: New Zealand's wildest Islands' voyage.
The majesty of the morning sun glittering over the water and dramatic rolling hills during breakfast set the tone for an exceptional day of expedition cruising. Our more enthusiastic voyagers clamboring 200-metres up the often tricky South West Cape where they were rewarded with jaw-slackening scenery and the opportunity to spend some time perched above the White-capped Albatross colony engaged in the flurry of activity below.
Those opting for the Zodiac cruise spent the morning traversing the swirling kelp-lined coast watching Tui, Bell Birds and Auckland Island Shags while playful Hooker's Sea Lions nudged their vessel. Spotting the tent of two scientists on Adams Island, the pair shared some interesting insights into the their studies on White-chin Petrel, Gibson's Albatross and the New Zealand Falcon.
Pulling anchor just before lunch we set course for Musgrave Inlet, enjoying a special farewell from a raft of Rockhopper Penguins diving through the waves of our wake as they headed out on an expedition of their own. The perfect conditions allowed us to make short work of the enjoyable journey arriving at 1400 hours in time for another Zodiac cruise. Hugging the jagged coastline we explored the dark confines of a sea cave, passed through an arch into a surreal, open-topped cathedral where its marbelled walls were crowned with cascading lush vegetation. The discovery of a colony of Rockhopper Penguins provided a delightfully fascinating moment as the comical birds bound over the rocks hopping in and out of the water and creating ear-to-ear smiles in the Zodiacs.
With a northeasterly frontal system on the horizon, we are now steaming towards The Snares looking to arrive in the early morning to try and squeeze in a Zodiac cruise of these legendary Islands before the predicted wind scuttles our chances.