Birding and Exploring in Honiara
27 March, 2019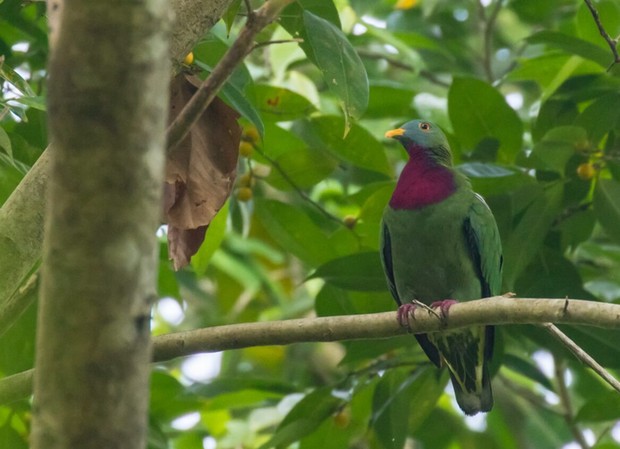 Image: Claret-breasted Fruit Dove (c) Heritage Expeditions
Anchoring off the Solomon Islands capital Honiara in the early hours, it was another pre-dawn start for our birders on day 13 of our 'Western Pacific Odyssey' voyage. Spending the morning at Mount Austin, our birding group's dedication was rewarded with excellent sightings of Blyth's Hornbill, Pied Goshawk, Buff-headed Coucal, Claret-breasted Fruit Dove, Solomon's Cockatoo, Oriental Hobby and Steel-blue Flycatcher among others.
While our birders were enthralled on Mount Austin, the rest of our group enjoyed a spectacular sunrise with breakfast before Zodiac cruising ashore and heading into town. Our first stop saw voyages exploring a bustling market where an array of exotic fruit and vegetables were being sold alongside locally-made jewellery.
Our tour continued with us paying our respects at the Guadalcanal American War Memorial, then visiting Parliament where we were welcomed inside to view the beautifully crafted interior, a celebration of traditional design, before visiting the sombre tranquillity of the Japanese Peace Memorial and its sprawling views across Honiara and out across the water to our expedition vessel Spirit of Enderby.
Meeting back at the wharf, we climbed into Zodiacs and made our way back to Spirit of Enderby where both groups compared the morning's adventures over a delicious lunch.