Beck's Petrels and Interesting Cetaceans off New Ireland, Papua New Guinea
31 March, 2019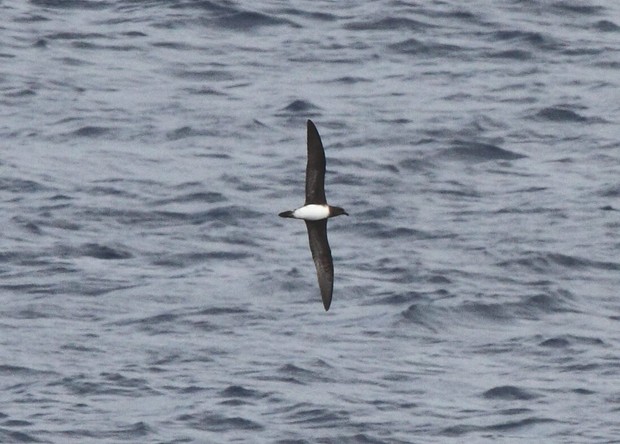 Image (c) Heritage Expeditions
As the sun rose the Spirit of Enderby was just slowing to walking pace off Cape St. George, New Ireland. This should be the place for the enigmatic Beck's Petrel - previous passengers aboard our Western Pacific Odyssey voyage making up 90% or more of all those that have ever seen the species.
However, after five Red-necked Phalaropes and a couple of Brown Boobies we made the decision to move up the coast of New Ireland with the hopes of running into the Beck's Petrel en route. This proved to be a master-stroke!!
It wasn't long before a distant Beck's Petrel was spotted and over the next couple of hours there were about 8 birds seen altogether. Some gave decent views, though most were a fair distance out. In among the bird sightings we enjoyed a remarkable run of cetaceans too - no less than 6 species, including a good look at a Pygmy Sperm Whale and small calf, and a close encounter with a Beaked Whale which showed well. This small beaked whale was initially thought to be a Blainville's, but might well turn out to be something much more interesting...
A couple of large pods of Pantropical Spotted and Spinner Dolphins were pleasing, as was a mixed group of Melon-headed Whales and False Killer Whales.
By lunchtime the glassy sea had become slightly choppy, the clouds gathered and there was even a brief, sharp downpour. Birds, mammals and fish became scarce, with a few Red-footed Boobies headlining the afternoon's list as we headed north. A spectacular waterspout out to the East caused a flurry of interest in the late afternoon as we steamed towards our next destination - Caroline Islands.