04 Feb 2020
Vanuatu Rom Dance: Discovering a Mystical Culture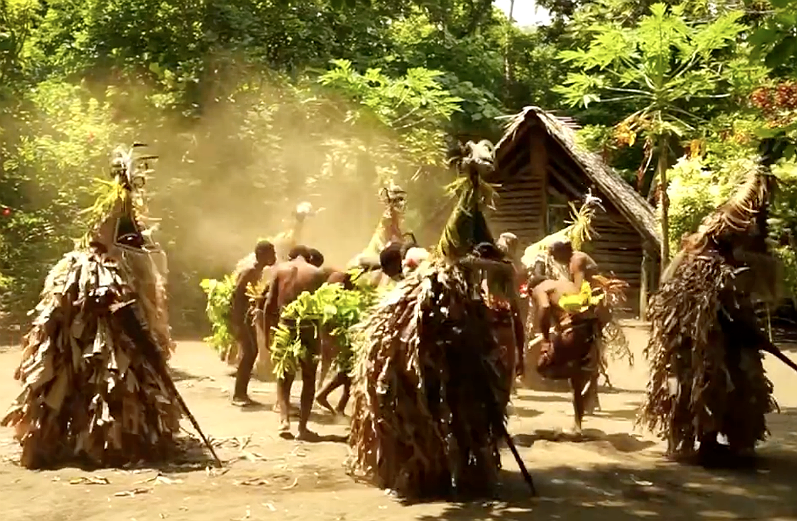 The Melanesian archipelago of Vanuatu is a mystical, remote, and rugged volcanic wonder of oceanic diversity, time honoured tradition and utterly unique cultural practices. In one of the least visited places on Earth, traditional navigation is alive, shell money continues to be made, and the ecological beauty of coral gardens and endemic birdlife make a cruise around Vanuatu Islands a rare and otherworldly adventure.
Vanuatu is a South Pacific Ocean nation of about 80 islands, situated east of Australia and west of Fiji. Recognised as one of the most culturally diverse nations in the world, Vanuatu is home to 110 different languages and cultures. Traditional culture is very much alive and customs such as dances, ceremonies, status symbols, authority systems, artistic styles, and farming methods all vary across the islands, and even within districts of a single island. Vanuatu tourism is truly an immersion in magic, ritual and exotic beauty, largely undiscovered and not found anywhere else on the planet.
The most stunning way to experience these volcanic islands inhabited by the intrigue of Vanuatu people and echoing with ancestry, is undoubtedly by way of Vanuatu cruises. A Pinnacle highlight of our 'Secrets of Melanesia' expedition is the hypnotic, exotic and ancient Rom dance. Restricted to the men of the village, the masked dance is a customary and ceremonial ritual that stretches back centuries and recounts the timeless tale of good versus evil. Believed to favourably influence harvests, the Rom dance is performed in a variety of ceremonial contexts and is a profound and riveting privilege to witness.
The Rom dance is notoriously performed on the island of Ambrym, Vanuatu. Considered to be the black magic epicentre of Vanuatu, the glistening black sands of Ambrym mirror the mystery it represents. Characterised by two active volcanic cones filled with lakes of molten lava, the island is a seldom visited embodiment of Vanuatu culture in its authentic expression. After a short walk through the forest, a thick jungle opens into a clearing where towering tam tams (6-foot tall hollowed out slit drums) frame the sacred dance ground. The rhythmic beating of tam tams and shakers set the scene as warriors dressed to represent evil spirits emerge, adorned in a thick and somewhat intimidating cloak of dried banana leaves and a conical, brightly painted banana-fibre mask. As the dance begins, story, myth, heritage, and belief entwine with the supernatural in an unfolding rich in symbolism.
Rom dance chants tell stories that reveal the diverse regional and cultural differences across the island of Ambrym. As an ancient ritual imbued with secret knowledge, elders keep the Rom dance and other tribal customs cloaked in mystery. Costumes must be kept in strict hiding until the ceremony begins and if anyone is caught stealing a peek, they must pay the fine of one pig and endure a whipping with a stinging plant! The masks are a symbol of power and are central to a variety of ceremonies, including initiations and circumcisions. Every element of movement, chant and adornment is symbolic. High ranking chiefs and warriors who dance alongside the Rom dancers often wear red flowers in their hair to symbolise pride, majesty, knowledge and strength, as well as a boar tooth necklace to indicate power and wealth. Some chiefs will wear a namale leaf on their back to convey peace, while others wear white bird feathers to suggest both peace and safety.
Participation in these dances, which are also known as 'kastom', are dictated by tribal affiliation. As an integral part of village life, they weave the web of culture, village life and family so important to Vanuatu people and Pacific Islander ways. The dance is a form of magic, but also a method for "grade-taking" or moving up in the ranks of society. When he wishes to ascend the village hierarchy, a man must find someone who owns the design of a mask and purchase it with pigs and money, spending extensive time learning the rules that determine the specific colours and shapes of the mask. Each design contains powerful magic and Rom masks are the stepping stones that allow a man to become a chief, both in political and social terms. They are so powerful that, traditionally, masks are burnt at the end of a ceremony or festival to ensure that evil spirits do not haunt the wearer or plague the village.
Vanuatu holidays attract the intrepid explorer with a thirst for the untamed and unusual. A landscape alive with spirits, ancestry, and biodiverse, jungle laden, volcanic peaks dotting turquoise waters, Vanuatu is far beyond traditional tourist routes. Seeped in magic and mystery, the Rom dance itself can easily be considered a primary motivator in posing the question of why travel to Vanuatu. There are truly very few places left on Earth left where one can behold the exoticism of ancient ritual and cultural symbolism unfold in a traditional context. Mesmerising and esoteric, Vanuatu travel transports you to a place where art and magic entwine as the veil between spiritual realms and experience blur. The name Vanuatu translates to 'land eternal', and you can be assured that travelling to Vanuatu will leave you a legacy of memories that are not only life changing, but will certainly become eternally ingrained in your heart.
Alongside the thrilling experience of the Rom Dance and a cruise around Vanuatu Islands, our 'Secrets of Melanesia' trip includes an intimate exploration of the remote Solomon Islands, another gem of this seldom visited part of the world. Beginning in Honiara, the journey includes iconic war memorials and a stop at Mt Austen, where some spectacular species reside, including the Solomon Sea Eagle. Next, travellers are awed by the colourful coral reefs and verdant forests of San Jorge and Santa Isabella Islands. After cruising through some of the most pristine waters of the South Pacific, our 50-guest ship Spirit of Enderby visits several small islands for unparalleled snorkelling opportunities and visits with local villagers who are thrilled to share their song and dance. An important part of Melanesian culture, the sing-sing is a cultural performance in which tribes and villages gather to showcase their distinct dance, culture and music which will leave you spellbound.
Cruises to Vanuatu are guaranteed to be a lifelong highlight of otherworldly experience. These islands are a true window in time, whisking visitors into another era long forgotten in the West. Melanesia is a place where red feather money sourced from the Scarlet Honeyeater is still made and locals navigate on traditional canoes with sails made of woven palm fronds. Our journey through ancient culture amidst emerald seas creates an enchantment from the 'land eternal' that you will surely never forget.