02 Dec 2019
Unusual Discoveries in the Commander Islands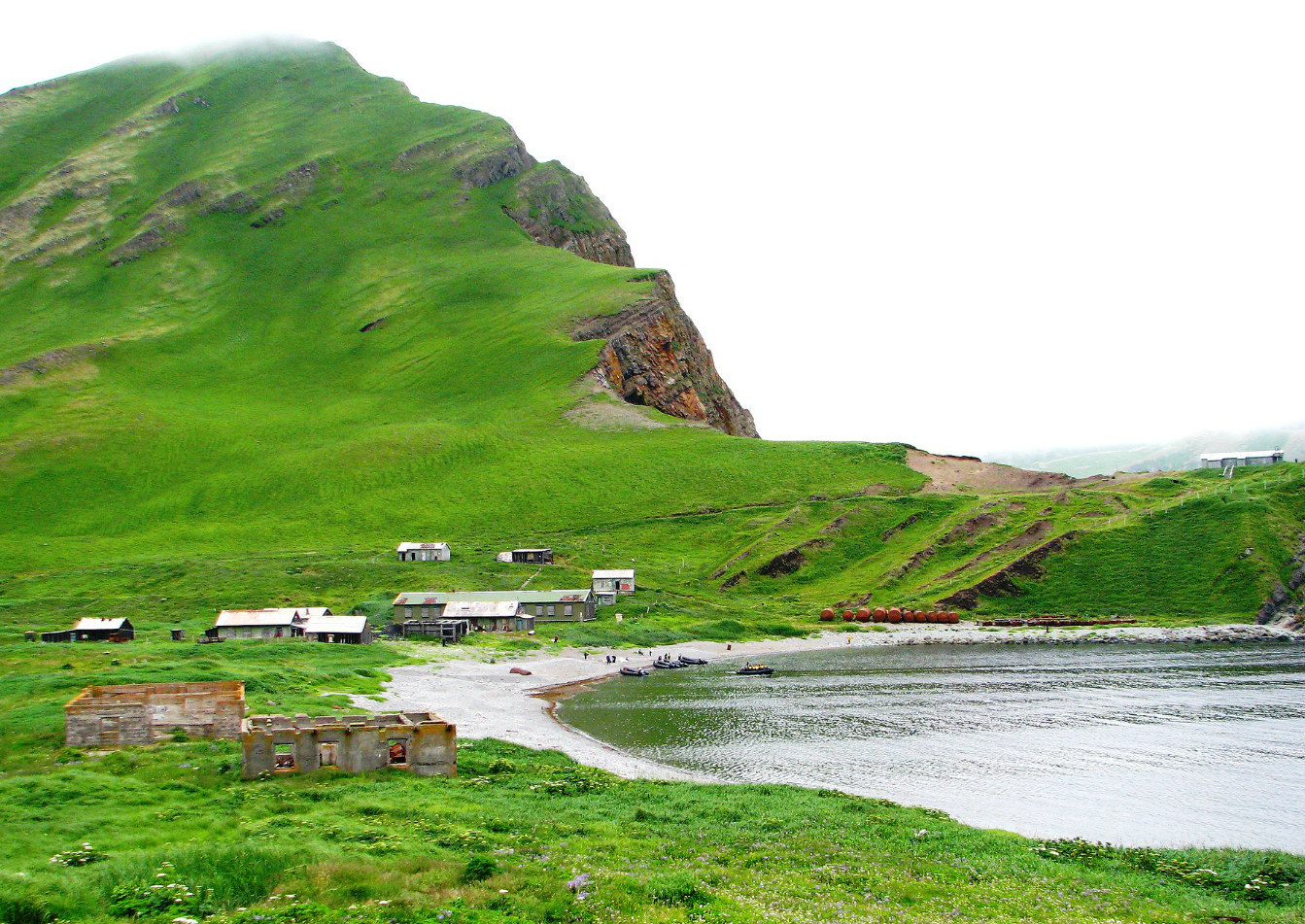 At the extreme western end of the Aleutian Islands chain and 175 kilometres east of the Kamchatka Peninsula lie the fog-shrouded and sparsely populated Commander Islands. Named for Danish Explorer Commander Vitus Bering whose ship was wrecked here in 1741, these four islands and surrounding marine zone are a Federal Nature Reserve and part of the World Network of Biosphere Reserves by UNESCO. Only one small settlement, Nikolskoye village, is home to fewer than 1,000 residents.
The Commander Islands are invariably a highlight for travellers exploring the Russian Far East. An exceptional biodiversity of marine mammals and sea birds flourish here against a dramatic backdrop of sheer cliffs, rocky outcroppings and expansive green swatches of mountainous tundra and valleys.
Along these rugged coastlines, some of the largest rookeries of Northern Fur Seals and Steller Sea Lions on the planet summer here (over 200,000 and 5,000, respectively). And, despite earlier hunting, abundant populations of Sea Otters, Common seals and Largha seals reside here today.
Beyond the shores, whale flukes, spray and occasional breaches dot the horizon. Seasonal migration paths for Sperm, Northern Minke, Humpback among many others transect this region, resulting in some of the most extraordinary whale sightings.
Over the past decade, we've witnessed and heard of some particularly unusual marine life discoveries in the Commander Islands. Nature never ceases to amaze! And these far-flung volcanic isles have no shortage of surprises to encounter.
Rare Whale Sightings
"Iceberg" the All-White Orca

The Commander Islands are a thriving hotspot for cetaceans, with an impressive 21 migratory whale species, including Orca, Northern Minke, Humpback, Sperm, Fin and several species of beaked whales.
In 2012, an unusual sight emerged from within a pod of twelve other Orcas: a 6.5-foot high, all-white dorsal fin. Scientists from Moscow and St. Petersburg identified it as an all-white male Orca of at least 16 years and nicknamed him "Iceberg."
Over the past decade, there have been five to eight all-white Orcas identified. Iceberg is the only mature male, however; the others are either juveniles or mature females. Researchers hope the presence these fascinating whales will help efforts to expand marine reserves along the Russian far eastern coasts.
Erich Hoyt, co-director of the Far East Russia Orca Project, said, "In many ways, Iceberg is a symbol of all that is pure, wild and extraordinarily exciting about what is out there in the ocean waiting to be discovered."

Footage captured by the Komandorsky State Nature Biosphere Reserve
North Pacific Right Whale
In 2019 we were treated to an unforgettable experience cruising alongside one of the world's rarest whales, a North Pacific Right Whale. With numbers believed to be as low as 430 globally, and only about 30 individuals in the Bering Sea, it was a special privilege to accompany this mammal as it made its way to a shallow bay near Medny Island.
At one time, the entire population had been as many as 37,000 whales before commercial whaling drastically reduced their numbers in the 19th century. While whaling is no longer a threat, fishing equipment, marine debris, biotoxins, climate change and ocean noise continue to endanger them.
North Pacific Right whales generally live up to 70 years and feed by sifting ocean water through their baleen plates to capture small fish and krill. Their migration patterns are not entirely certain, but it appears that they spend their summers in Bering Sea and Alaska feeding grounds and then head south to warmer regions like southern California for the winter months.

Extinct & Enormous: Steller's Sea Cow, by NATURE ATLAS FILMS.
Massive Skeleton Found on Bering Island
In 2017, a nearly complete 5.2 metre long skeleton was found on Bering Island in the Commander Islands Nature and Biosphere Reserve. Marina Shitova and her team of scientists were on a routine survey along the coast when she spotted something jutting out from the shoreline. What turned out to be a few exposed ribs led to the discovery of an extinct Steller's Sea Cow, and one of the the only full-sized skeletons of this species (sans skull) to be found and preserved. Most Steller's Sea Cow skeletons have been reconstructed with bones from several different specimens.
Now housed in the local museum in Nikolskoye village on Bering Island, visitors can admire this rare and celebrated natural history artifact first-hand!
___________________________________________________
Our Expeditions to Commander Islands
Kamchatka Coast: Siberia's Forgotten Coast [14 Days]
21 Jun 2020 – 4 Jul 2021
Petropavlovsk-Kamchatskiy to Anadyr, Russia
Charter flights available from Nome, Alaska
Aboard the Spirit of Enderby

Kamchatka Coast: Jewel of the Russian Far East [14 days]
30 Aug – 12 Sep 2021
Anadyr to Petropavlovsk-Kamchatskiy, Russia
Charter flights available from Nome, Alaska
Aboard Spirit of Enderby

Kamchatka and Kuril Islands: Russia's Ring of Fire [13 Days]
25 May – 06 Jun 2021 (Akademik Shokalskiy)
26 May – 07 Jun 2021 (Spirit of Enderby)
Petropavlovsk-Kamchatskiy, Russia to Sakhalin Island

Interested in one of these expeditions? Contact us and ask to RECEIVE THE E-BROCHURE.

PHOTO: Orca Olga Filatova, Far East Russia Orca Project (all-white Orca)