02 Jun 2022
Heritage Expeditions Sets Sail for the Kimberley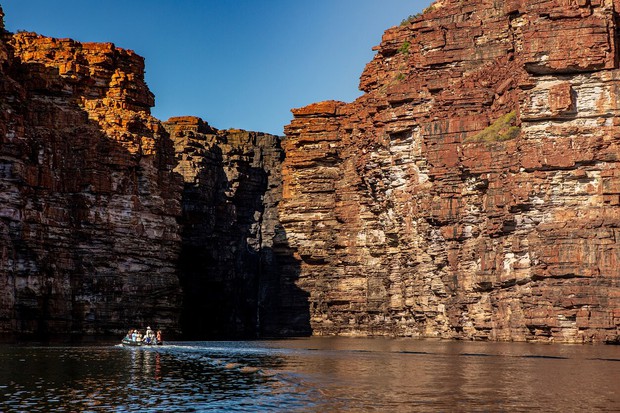 Pioneering New Zealand-based expedition cruise company Heritage Expeditions is setting sail for Australia's world-famous Kimberley Coast adding two exciting new itineraries to its 2023 schedule aboard luxurious expedition flagship Heritage Adventurer with an early bird booking discount of 20% across all cabins*.

The new 11-day, expertly-led expedition cruises Kimberley Explorer: Expedition Cruising Australia's Iconic Kimberley Coast and Kimberley Coast & Beyond: Expedition Cruising Australia's Kimberley Coast and Indonesia showcase Western Australia's wild and remote Kimberley coast where towering, fractured iron-tinged red cliffs meet torrential waterfalls, hidden coves and caves, secluded white sand beaches, ancient rock art, magnificent reefs and rare and endangered wildlife.

Commercial Director and Expedition Leader Aaron Russ said the Kimberley's ancient landscape, epic scale and incredible natural attractions and indigenous culture made it the perfect addition to Heritage Expeditions impressive catalogue of intrepid destinations.

"We are incredibly proud and excited to be bringing our authentic expedition cruise experience to Australia's peerless Kimberley coast aboard Heritage Adventurer. Our voyages, led by a team of on board experts and local guides, have been carefully created to offer an up close and intimate exploration and immersion of this rugged wilderness where guests will experience the unfathomable scale of this ancient land," he said.

Guests have the option to experience this incredible landscape ship cruising poolside aboard Heritage Adventurer, by fleet of 14 Zodiacs ensuring no guest is left on board, and by foot on special landings.

Kimberley Explorer, departing 11 and 21 July, and 10 August 2023, showcases the Kimberley's finest including ancient Aboriginal rock art, natural wonders Horizontal Falls, Montgomery Reef and King George Falls, World War II history at Vansittart Bay, early explorer history at Colonial Bay, the Lacepede Islands and more.

While Kimberley Coast & Beyond, departing 31 July and 20 August 2023, sails well off the typical tourist route to the powdery white sand shores and crystal-clear waters of Indonesia's tiny tropical outpost and snorkelling paradise Matakus Island and includes iconic Kimberley outback town Wyndham, gateway to the Bungle Bungle Range and Ord River, ancient Aboriginal rock art, natural wonders Horizontal Falls, Montgomery Reef and King George Falls, World War II history at Vansittart Bay, the Lacepede Islands and more.

Travel is aboard 140-guest expedition Heritage Adventurer, built in Finland she brings an impressive history of Polar exploration having held records for the most northern and southern Arctic and Antarctic navigations. Guests on board will still enjoy the intimate and experiential expedition voyages synonymous with Heritage Expeditions, which have been foremost in planning, albeit now in more spacious, stylish and comfortable surrounds including an on board pool, while a fleet of 14 Zodiacs ensures the maximum expedition adventure. Guests aboard this luxury vessel will also enjoy all-suite cabins with private facilities and an Observation Deck with 360-degree views.
*T&Cs apply, cannot be used in conjunction with any other offers. For bookings made by 31 August 2022. Early Booking Promotion subject to availability, per departure, at time of booking. 20% discount on berth rate only, excludes Discovery Fund Local Payment.