13 Nov 2019
What is the best time to visit Kamchatka?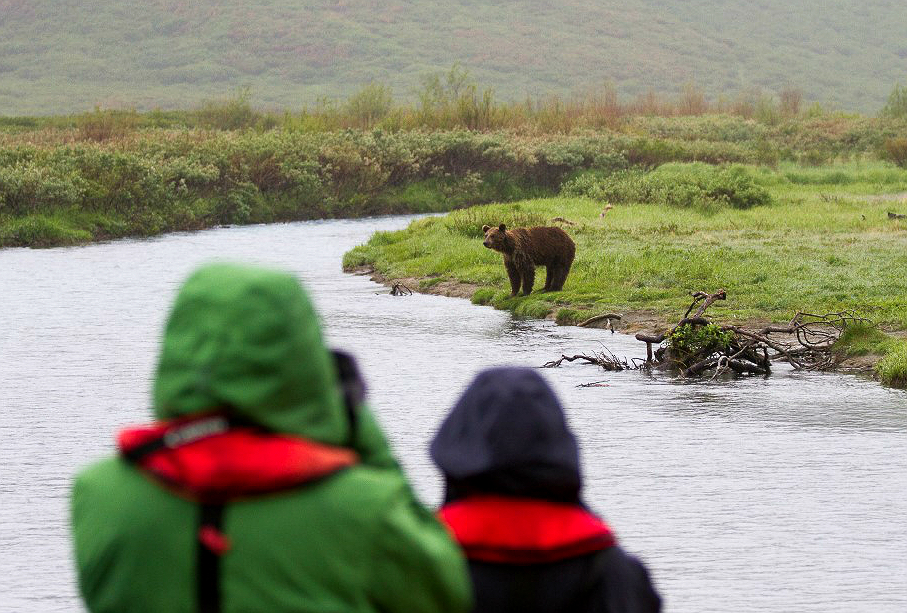 The Kamchatka Peninsula of far Eastern Russia is a rugged and remote epicentre of wildlife, presenting an unparalleled opportunity to immerse yourself in one of the world's last remaining frontiers. A pristine and largely uninhabited area, where a myriad of teeming marine and avian life thrive, Kamchatka is a majestic land of towering volcanoes, thermal hot springs, striking fjords, and boiling geysers. Home of the world's most remote and hard to reach coastlines, the sheer scale of this region, its remoteness and inaccessibility makes travelling there only possible by small ship expedition vessels. Known for extremes, this dramatic scenery shaped by lava and ice is subject to intense weather patterns, making timing a crucial consideration in planning an expedition cruise to Kamchatka.
The best time of year to visit Kamchatka is during the Northern Hemisphere's summer, from late May through early September, with each month offering its own virtues and unique opportunities for exploration and wildlife sightings. Walruses, whales, sea lions, and an extraordinary variety of birds dominate this startling landscape where one is more likely to run into a bear than a tourist! Read on to discover how Kamchatka travel varies across the summer months and uncover your ideal adventure of a lifetime, depending on which aspects of this otherworldly peninsula intrigue you most.
May Through Early June
The dawning of summer, from late May to early June, is an enchanting time for visiting Kamchatka. Dramatic cone-shaped volcanoes still capped with snow form a majestic backdrop for fields of wildflowers, as brown bears emerge from a long hibernation and the natural world awakens to the delight of warming temperatures after a long and brutal winter. During this time of renewal, our Kamchatka tour guides lead travellers on an expedition into three distinct geographical regions – the Kamchatka Peninsula, the Commander Islands and the Kuril Islands – on our expedition to Kamchatka and Kuril Islands, 'Russia's Ring of Fire.'
May into early June is peak birdwatching season and you can expect to spot an innumerable array of rare, unusual, and majestic bird species, both resident and migratory. Notable is the intermingling of American and Eurasian species and given the startlingly high bird population, Russia's Kamchatka is truly a birder's paradise. Zodiac cruising provides ample opportunity to spot up to 14 Auk species including Tufted and Horned Puffins, Parakeet, Whiskered and Rhinoceros Auklets, as well as Spectacled and Pigeon Guillemots.
Other sea birds to look out for include the regularly encountered Laysan Albatross, Mottled Petrel, Fork-tailed Storm-petrel, Red-faced Cormorant, Red-legged Kittiwake and Aleutian Tern. In addition to all the avian wildlife, whale watchers will delight is spotting Sperm, Humpback, Northern Minke and Baird's Beaked-Whales, as well as Orcas/Killer Whales, Steller Sea Lions, Northern Fur Seals and Pacific Sea Otters. A cruise along the scenic Zhupanova River is prime Steller's Sea Eagle territory. Over half of the world's population dwell here and at this time of year, this magnificent bird of an impressive 2.5 metre wingspan is often nesting in the trees adjacent to the river.
At the onset of summer, bears are particularly active, hungrily awaiting the salmon run after months of hibernation. An excursion into the head of a fjord brings ample opportunity to spot these impressive mammals as well as numerous unique bird species. The Kuril Strait has one of the highest densities of sea otters in the area and a stroll to Black Lake is unforgettable; for in early June, fields of wildflowers and stunning orchids colour the landscape with contrasting beauty.
June Through Early July
Late June into early July is a splendid time to observe the famed Kamchatka Brown Bear. July is not only the warmest month in Kamchatka, but also the time when rivers run with spawning salmon racing upstream, becoming an abundant feast for hungry bears emerging from winter hibernation. Kamchatka is notably the only place left on Earth where all six species of wild Pacific salmon return to spawn. An estimated 20,000 bears inhabit the region and watching them catch salmon in the river as the largest active volcano in the Northern Hemisphere sits majestically in the background, is both thrilling and deeply serene. Travel to Kamchatka immerses you in some of the most extraordinary primal beauty this planet has to offer and July is the best month to see the stunning floral landscapes of the foothills. If you embark on the 'Siberia's Forgotten Coast: Kamchatka Coast' expedition, you will even have the opportunity to accompany researchers into a breeding colony of the rare and iconic Spoon-billed Sandpiper, one of the world's critically endangered species which clings to life here. Other highlights of this Kamchatka expedition cruise include Zodiac cruising on the Zhupanova River where sightings of Steller's Sea Eagles and Largha/Spotted seals are common. Waterfowl and waders delight birders and a crossing of the deep sea Kuril–Kamchatka Trench also invites observation of cetaceans and seabirds. Venture into largely unexplored parts of the coast where deep, forested fjords are home to brown bears, red fox, mountain sheep and marmots. Picturesque lagoons attract diverse birdlife and this coastline is rich in varied marine mammals, including the charismatic walrus.
September
September is truly a mesmerizing window for visiting Kamchatka. Autumn explodes in a prism of color, where vibrant hues of red and orange contrast against the earthy shades of smoking volcanoes and tundra draped hillsides. September generally has less rain than July or August (which also means few mosquitoes), and is a prime time to observe well fed bears lounging on the riverbanks, while reindeer and mountain sheep feed in preparation for the long winter ahead. A perfect Kamchatka tour for this time of year is 'Jewel of the Russian Far East: Kamchatka Coast' which, alongside wildlife spotting, includes an unforgettable visit to a traditional village where you find yourself enchanted by local dance and customs. During this time of year, wild berries color the meandering fjords and deep forests. Highlights of this expedition include a visit to a fur seal rookery, stunning lagoons populated by brown bears, and the world famous Valley of the Geysers.
All summer months are extraordinary times for Kamchatka tourism and regardless of which month you choose, this mosaic of tundra, deciduous forest, pristine waterways, volcanoes and geysers are bound to leave you utterly awestruck. Less than 400,000 people inhabit this 1,250-kilometre Subarctic finger of land, preserving the Kamchatka Peninsula's pristine beauty, exceptional biodiversity and exquisite abundance of wildlife that is virtually unparalleled anywhere else on Earth. Perched between the Sea of Okhotsk and the Pacific Ocean, Kamchatka boasts 414 glaciers and 160 volcanoes, 29 of which are active. This majestic landscape is dotted with calderas, fumaroles, volcanic lakes and thermal springs, alongside emerald forests skirted by deep mauve tundra, alpine meadows bursting with the hues of blooming wildflowers, and backed by volcanoes topped with glaciers and snow.
Kamchatka has a mythical allure, attracting the adventurous traveller eager to witness nature unfiltered on this frozen, otherworldly peninsula poised in continual recreation at the edge of the Earth.