05 Feb 2021
Best Selling Kiwi author joins Heritage Expeditions voyage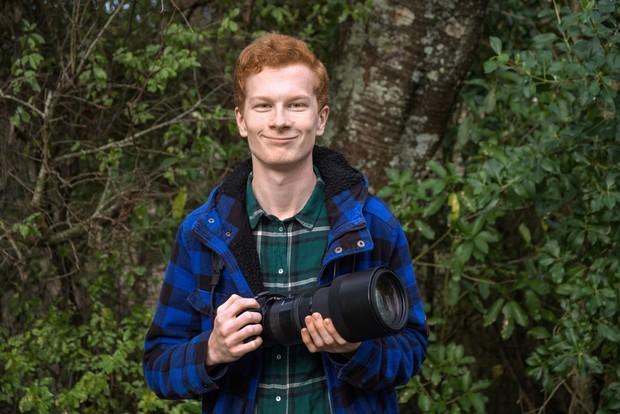 A Subantarctic update is in the wings for New Zealand's favourite birding book after birdwatching sensation and best-selling author Oscar Thomas joined one of Heritage Expeditions Subantarctic Islands voyages on a True Young Explorers Scholarship.
Oscar, the 20-year-old Dunedin ornithologist, photographer/author of best selling identification guide A Naturalist's Guide to the Birds of New Zealand and Otago University Ecology and Zoology student whose guide to identifying 238 New Zealand bird species landed an international publishing deal and sold out in New Zealand a month after publication joined Heritage Expeditions 7-day Auckland Islands and The Snares: Subantarctic Wonderland voyage.
Oscar, one of 28 scholarship recipients who joined Heritage Expeditions this season, said visiting New Zealand's Subantarctic Islands with Heritage Expeditions realised a long-held dream, furthered his studies and provided invaluable content for the second edition of his book.
"The opportunity to actually see Aotearoa as it would have been without disturbance or destruction is incomparable," he said. "The second edition will greatly benefit from additional photographs of our precious Subantarctic avifauna, subjects I have always dreamed of encountering."
"As a student I will also be furthering my study in the hopes to properly understand the state of our taonga, as well as make wider meaningful contributions to conservation in the future."
Oscar joined Heritage Expeditions on a True Young Explorers Scholarship, an initiative which supports a limited number of younger people (aged 18 - 30 years) each year who are passionate about giving a voice to, and protecting, New Zealand's Subantarctic Islands and Southern Ocean to experience true expedition travel to Antarctica and Australia and New Zealand's Subantarctic Islands at a fraction of what it would otherwise cost.

Heritage Expeditions' Commercial Director and Expedition Leader Aaron Russ said the company was delighted Oscar was able to join the voyage.
"Heritage Expeditions was founded on the ideals of people like Oscar, he is a tenacious and talented young man who embodies our shared ethos, it was our pleasure to share New Zealand's precious Subantarctic Islands, and their incredible birdlife, with him."
Find out more about True Young Explorer Scholarships here.
See Heritage Expeditions full Subantarctic summer season here.
Image © Kimberley Collins