Orcas, Thousands of Penguins and Sunshine on Macquarie Island
5 December, 2018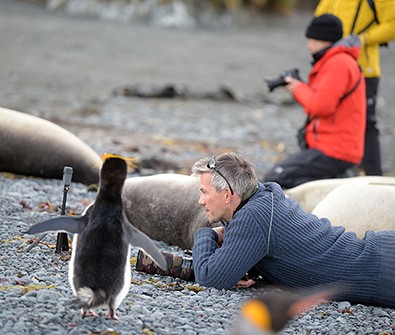 Images (c) K Richter
A magical, early morning encounter with a pair of Orca playing with their fresh kill put on an unforgettable show darting around our boat and set the scene for an epic first day on Macquarie Island. It seems the resident Orca at 'Macca' know when Spirit of Enderby arrives, as most times we pull into the lee they cruise over and say hello.
After fuelling up for the huge day ahead with a hearty breakfast, we picked up our Rangers from Macquarie Island and idled over to the legendary Sandy Bay. Continuing our good fortune, the weather gods smiled down on us and let the sun out just before we launched our Zodiacs - and it stayed with us all day.
Always a spectacular site, it was standing room only along the animated shores of Sandy Bay with regal King and Royal penguins, lumbering Elephant Seals and their seriously cute 'weaner' offspring and giant Petrels all clambering for valuable real estate on the beach. Fluffy down swirled on the pungent air filled with a chorus of squawks, bellows and near-deafening chatter as sunlight winked off camera lenses, it was beaming smiles all round and an experience staff, crew and passengers will never forget.
A quick zodiac cruise on the way back to the ship provided exceptional views of the resident Rockhopper Penguins bounding over rocks at Brothers Point before an early dinner was served. As the sun dropped below the cliffs of Macquarie we headed back into our zodiacs for an evening cruise of Lusitania King Penguin colony. The full-blown sensory assault of sights, sounds and smells of this massive colony always leaves you thinking you have entered a wildlife documentary.
Back aboard Spirit of Enderby, the bar was abuzz on sun-pink cheeked passengers raised a toast to this magic island trading photos and stories.