Morepork, Saddleback and Yellowhead Encounters on Ulva Island
18 December, 2018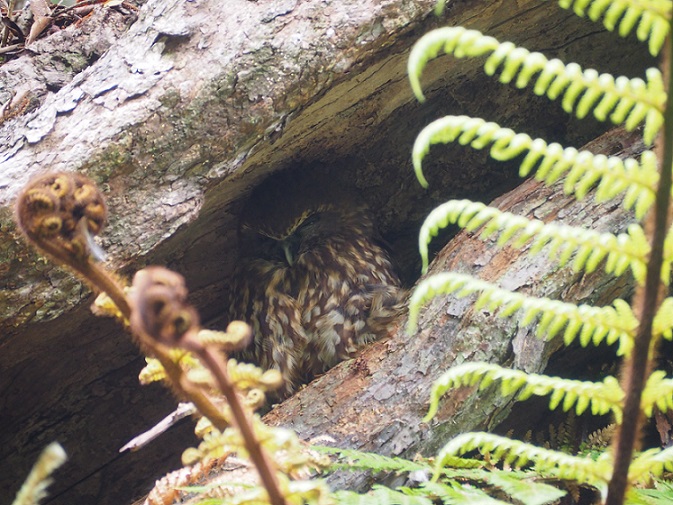 Image (c) H Dohn
If it wasn't for our eagle-eyed guide, we literally wouldn't have seen the pair of roosting Morepork perched in the rotting tree hollow on Ulva Island for the trees, their mottled brown feathers effortlessly blending with the gnarled tree.
Pulling anchor at 0200 hours after a peaceful mooring, we collected our pilot for the Stewart Island/Fiordland leg of our 'Beyond Fiordland: New Zealand's Wildest Islands' expedition just outside the Bluff heads at 0530 and steamed down to Paterson Inlet at the predator-free native bird haven to meet our guide, also named Ulva, to explore the Island's teaming birdlife under ancient stands of Rimu, Totara, Lancewood and moss-covered Miro.
Pausing mid-sentence to identify and spot specific birds from the chorus of birdsong, Ulva's infectious passion and enthusiasm quickly rubs off on our expeditioners who all encounter a rollcall of New Zealand native birds including Stewart Island Robin and Weka, Brown Creeper, Tui, Oyster Catchers and their chicks, Tomtit, Kaka, Red-crowned Parakeet, Kereru and Fantail during the morning.
A lucky few also enjoyed a special moment when four chattering Yellowhead hopped passed on the branches overhead, and pair of Saddleback chased each other around the group, proudly showing off their distinctive markings. Keen eyes also spotted tiny Black Orchid on the forest floor and the delicate, distinctive white flowers of the Lady Slipper Orchid growing high up in the fork of a Rimu.
After a hearty lunch from the galley team back on board Spirit of Enderby, voyagers were dropped off by Zodiac at walks of decreasing length as we made our way around to Stewart Island's Halfmoon Bay dropping off the remaining expeditioners off to explore the quirky town centre.
With a following sea and southeast winds getting behind our 160-nautical mile passage to Fiordland, our expected arrival at the entrance to Doubtful Sound is around 0800 tomorrow.