Lunch with a Sea Lion on Campbell Island
14 December, 2018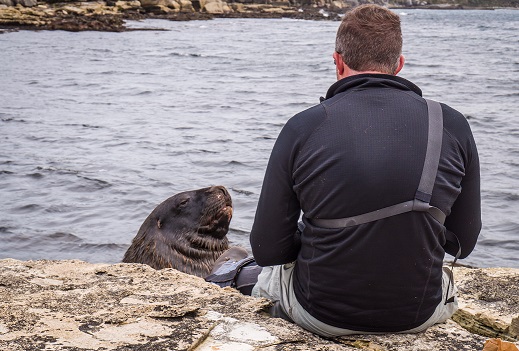 Image: (c) T Kraakman
Expeditioners woke to a typical Campbell Island grey and gusty morning in Perseverance Harbour on Day 3 of our 'Beyond Fiordland: New Zealand's Wildest Islands' voyage. After a hearty, early breakfast our walkers tackling the full day Northwest Bay hike headed out in Zodiacs as those opting for the shorter Col Lyall Saddle walk got ready.
Once ashore, Campbell Island delivered an unforgettable Subantarctic experience wading waist-deep through meadows of megaherbs and intense greens of Macquarie Island Cabbage (Stilbocarpa polaris), the golden cylinders of Bulbinella rossi and dusty pink cauliflowered spheres of Anisotome all in full bloom along Campbell's ragged cliffs as waves crashed around the snaggle-toothed outline of Dent Island - the last refuge of the Campbell Island Teal before rats and other predators were eradicated from Campbell Island - below.
Nesting Southern Royal Albatross dotted the megaherbs and a Skua parked in the middle of the track watched steely-eyed as we took a detour around her and the brown fuzz giving her chick away in the undergrowth. Breaking for lunch at Capstan Cove we enjoyed the unexpected company of a young adult male Hooker's Sea Lion, who hauled out onto the rocks in front of us, sleek of fur and with a growing mane he watched us eat before losing interest and collapsing into a nap.
Our short walkers to the Col Lyall Saddle savoured an exceptionally rare and lucky spotting of the elusive Campbell Island Snipe as well as Rockhopper Penguins, New Zealand Pipit, Sea Lions and Antarctic Terns, and exploring expansive fields of megaherbs and spending time with the animated inhabitants at the Southern Royal Albatross colony. During the afternoon our long walkers engaged with another colony of Royals, witnessing nature-documentary-come-to-life displays of nesting couples affectionately grooming each other, pre-teen birds looking for prospective mates joining raucous gamming sessions while others wheeled in the sky above, clumsily landed and launched themselves into the air with a running takeoff all provided much to discuss back on board.
As dinner service commenced, we pulled anchor and headed into the night and a growing southeasterly swell towards Auckland Island's Enderby Island.