Following in the Footsteps of Scott & Shackleton
27 January, 2019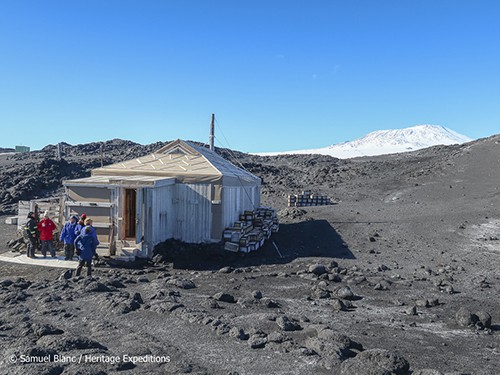 Image (c) S Blanc
With the satisfying crunch of icy snow underfoot and furls of smoke peeling off Mount Erebus in the distance, we make our way across the ice towards Scott's Hut at Cape Evans. It's the perfect weather to enjoy the rare privilege of walking on the ice - brilliant blue skies and a relatively balmy near -1°C temperature - a lone Emperor Penguin purposefully passing reinforces the sentiment as we near the 108-year-old hut that sheltered Captain Robert Falcon Scott and his men in the Terra Nova Expedition. Each step inside the rustic and impressively-built hut is like following in the footsteps of these courageous men who used this as their base on their voyage down to the South Pole.
Taking advantage of the favourable weather conditions we chart our own expedition of the Hut's surroundings where we discover impressive volcanic geology, well-preened South Polar skua and lackadaisical sleek-furred Weddell Seas basking in the sunshine.
After lunch we visit Sir Ernest Shackleton's Hut in Cape Royds, the base from which he and his men accomplished the Nimrod Expedition of 1907 - 1909. Looking around the the basic hut provides a fascinating insight into the achievements made from it including the first ascent of Mount Erebus in 1908 and the three men who reached the vicinity of the South magnetic pole in January 1909. These historical highlights from the Ross Sea region leave us humbled and filled with admiration as we head back on board Spirit of Enderby to recount the day's adventures over dinner as the sun glints off glaciers cautiously easing themselves down the slopes of Mount Erebus.