Flying High Over Dusky Sounds
20 December, 2018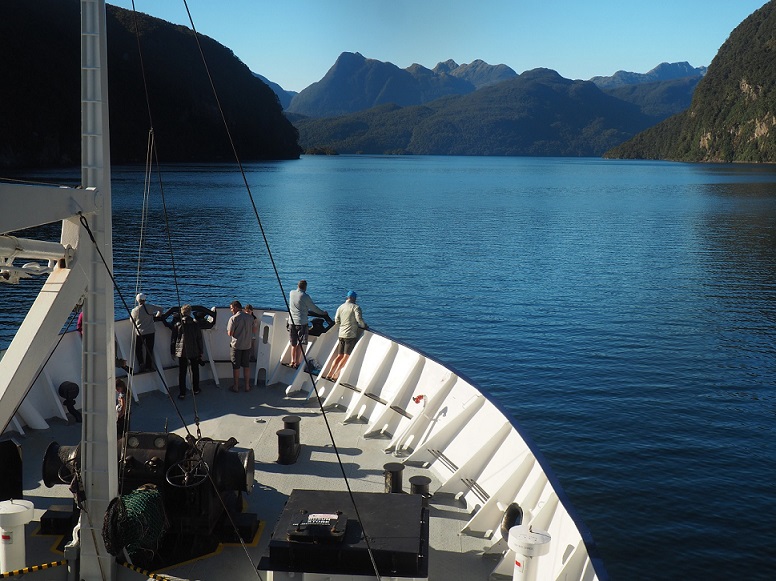 Image (c) Heritage Expeditions
Waking to sunshine dancing across the water and surrounded by towering, craggy mountains covered in native forest set the sc ene for a spectacular Day 9 on our 'Beyond Fiordland: New Zealand's Wildest Islands' expedition.
Moving off our anchor behind Entry Island in Breaksea Sound, we're joined by a pod of Dusky Dolphins, one turning on its side to take a look at us as we journeyed south along hidden inlets, coves and beaches mooring outside Sportsman Cove and launching our Zodiacs. Sailing through the Cove's narrow entrance we're surprised to see it balloon into a stunning natural arena as we idle along its glassy surface. Parking up at Cooper Island to explore its mossy terrain, on-board Department of Conservation guide Lindsay Wilson shares details of the Department's plans to establish Kakapo on the Island once its predator free.
Back on-board Spirit of Enderby, we chart our course to Cascade Cove where our trusty Zodiacs ferry expeditioners to the take-off barge for a flight with Southern Helicopters. Soaring over glittering waterways and the podo carp forest cloaked spines of Anchor and Resolution Islands puts into perspective the intense geological forces required to create the endless untamed wilderness below. Touching down on Mt Pender we're greeted by local identity Ken Tustin and staggering vistas across constellations of islands stretching into the horizon and dotting the winding fiords - Ken points out Sportsman Cove and it's rediculously tiny from up here.
At our feet, the plantlife is putting on own display with fragrant alpine versions of colourful Bulbinella and Anisotome found among shimmering alpine grasses waving in the breeze. A farewell party of Kea watch with interest as we board the helicopter then swoop down alongside Cooper Island and Cook Channel returning celebrate the day's activities with a swim off the gangway and, later, raising a glass with full hearts and memory cards in the Globe Bar.