Endemics on Norfolk Island
19 March, 2019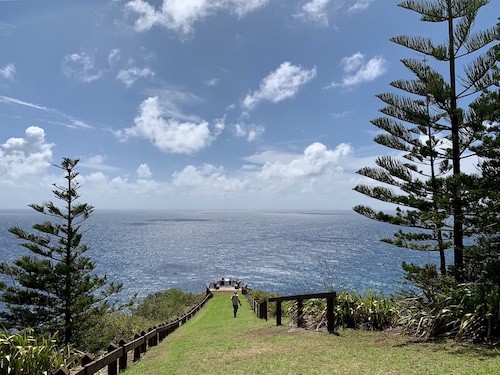 Images (c) H.Ahern
Fresh, 18-knot winds greeted us as we approached Norfolk Island in the early hours of this morning, however we were able to tuck into the western and leeside of Norfolk Island which offered protection allowing everyone to finish their sleep. Around 0500 hours we moved into anchor position in Sydney Bay just off Kingston, in the shelter of Nepean Island. The sun was shining and after we were cleared by the Australian officials we were shuttled ashore by Zodiac onto the main wharf of the island. There, waiting for us were friendly locals ready to show us their pride and joy - Norfolk Island. The Australian island has a fascinating backstory with early Polynesian history, landing of Captain Cook on 11 October 1774, the penal colony era, and settlements more recently with many locals able to trace their lineage back to individuals linked to the ship the Bounty.
These days it is tourism that brings the majority of visitors to the island and this is the mainstay of the island economy. During our visit we split into two groups, the birders had a morning around birding hotspot Palm Glen and it was a fruitful time. All the endemic species were seen early on including the Slender-billed White-eye, Norfolk Parakeet, Norfolk Robin and the highly distinctive form of the Golden Whistler. Our sightseeing group took a minivan with an entertaining and knowledgeable guide and spent a busy morning checking out the Norfolk highlights including the township of Burnt Pine, Mount Bates lookout with its spectacular views over the entire island, Captain Cook's memorial and landing site, the location of the notorious penal settlement at Kingston and the nearby cemetery, as well as the Botanical Gardens.
The two groups regrouped for morning tea which consisted of local bananas, Margaret Christian's delicious, homemade coconut cake and fresh vegetables with homemade hummus. Some of us even tried the mini guava's that grow wild on the bushes in this subtropical climate. We all enjoyed the warm hospitality afforded to us by every person we came across on the island. Soon it was time to return to Spirit of Enderby where we reflected on our visit over a late lunch as we made our way around the western coastline of the island bound for New Caledonia.