Amazing Landscapes
4 July, 2018
Over the last couple of days we have been able to help the Spoonbilled Sandpiper taskforce team who are onboard with use. 'SBS Taskforce' as they are known, are a group of researchers from Birdlife International and Birds Russia who are monitoring changes in known breeding sites for these birds, as well as trying to find new breeding colonies.

We have helped the taskforce team to access many bays, lagoons and coastline in search of these rare birds – exploring some of the most remote locations in this region that few 'westerners' have ever been. Treated to some spectacular landscapes, seascapes and mountain ranges that just take your breath away – enhanced by the gorgeous weather we have been experiencing with little wind and sunshine aplenty. The light in the evenings has been particularly special – the photographers amongst us have been spoilt for choice!

Wildlife has been plentiful – including close encounters with Brown Bears on two of our landings, as well as the very unusual sight of a Ribbon Seal on a beach. Normally these strikingly marked mammals reside on iceflows during breeding or in the open water – almost never seen coming to land.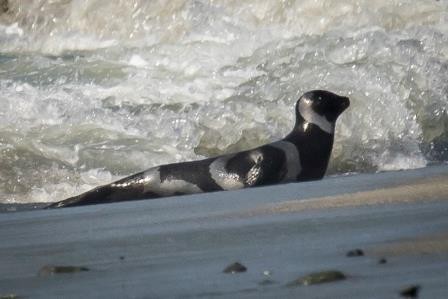 © C.Todd