Albatross Encounters on Campbell Island
8 December, 2018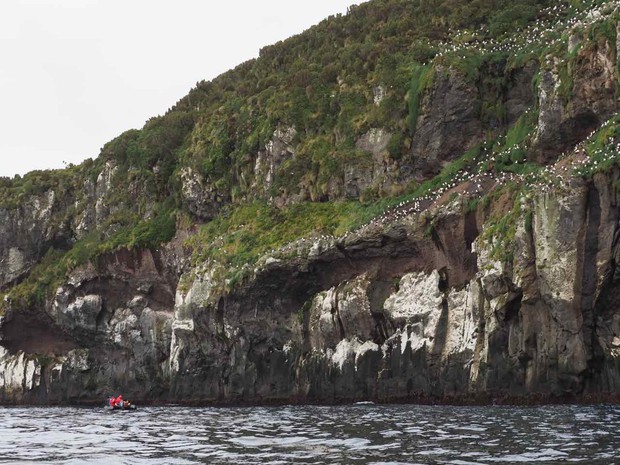 Image (c) Heritage Expeditions
As we cruised towards Days 10 and 11 on Campbell Island, the barometer's rapid rise indicated we'd be enjoying some exceptional weather on our arrival and it wasn't wrong. Waking up in the early hours sailing into Perseverance Harbour was a sight to behold, with the early light revealing the panorama of rocky islets and seastacks.
As the temperature started to rise, we dropped off our Northwest Bay walkers bound for its alien landscape of megaherbs, then piled into the Zodiacs for an adventure. While Campbell Island's North Cape was our goal, soaring cliffs and Light-mantled Sooties made for a memorable journey with Wilson's storm petrel, Campbell Island shag and Cape petrel also out in good numbers.
However, it was the epic numbers Campbell and Grey-headed Albatross cruising the updrafts on their expansive wings and filling the cliffs above that enthralled us all. The discovery of a small colony of Rockhopper Penguins bounding over the rocks and jumping in and out of the water added to a morning most of us will never forget.
Following a quick lunch back on Spirit of Enderby, we then made our way to Col Lyall boardwalk for an afternoon with the Southern Royal Albatross. With the spectacular weather continuing, most of us were down to t-shirts by the afternoon.
Greeted by the sight of expansive fields of megaherbs in full bloom, we lost count of the numbers of 'Royals' we saw whether they were blocking the sun as they passed over above us, perched atop nests, gamming towards the heavens or just preening and hanging out it was a privileged encounter. As the walkers returned, still full of energy, most joined us at Col Lyall for one of those early evenings on Campbell Island that will cause you to smile every time you think of it.