Adventures on the Ross Sea
24 February, 2019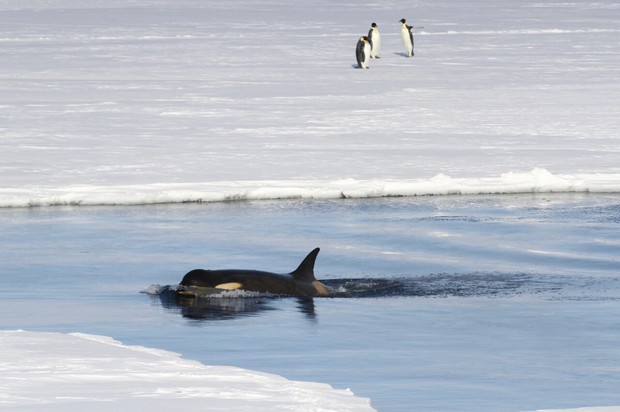 Image (c) D.Brown
With strong winds continuing overnight and no anchoring able to securely hold Spirit of Enderby, we spend the night drifting in McMurdo Sound and wake in the early hours to a calm day in front of the Ice Edge around Observation Hill and a group of 28 curious Emperor Penguins.
Cruising along the frozen white ledge in Zodiacs we enjoy several encounters with the birds (we have counted 70 so far) which obligingly preen in front of the stunning backdrop courtesy of the Transantarctic Mountains and are joined briefly by pod of Orca wondering what all the fuss was about.
Landing at the ice's edge, we savour the rare thrill of walking across the fast ice crunching underfoot and a second encounter with the Orcas as they swim alongside us through a channel between the floes.
Back aboard Spirit of Enderby we relay the morning's adventures over lunch as we steam down to Cape Evans where we navigate lounging Weddell Seals and moulting Adelie Penguins exploring the 108-year-old hut that sheltered Captain Robert Falcon Scott and his men during the 1910-1913 Terra Nova Expedition. As we're enjoying an exceptional dinner from the team in the galley we make our way to Cape Royds where we pay our respects at Sir Ernest Shackleton's Hut and watch the pale moon rise over Mount Erebus.