'Jewel of the Russian Far East' voyage featured in the UK's Daily Telegraph
18-06-2019
Lauded travel writer Mike Unwin voyaged with Heritage Expeditions and our friends at Wildfoot Travel on our 'Jewel of the Russian Far East' expedition and wrote this brilliant travel feature which was recently published in the Daily Telegraph's Saturday edition.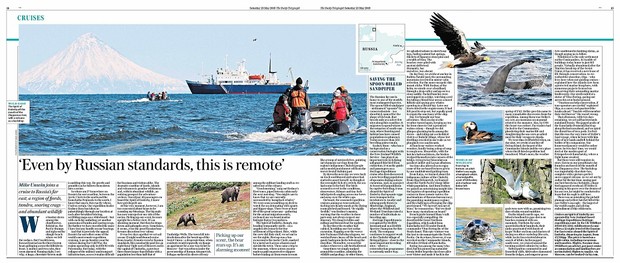 Even by Russian standards, this is remote. We hunker down among the cloudberries. Behind us, the Pacific thumps and sighs on the shingle beach where we left the Zodiacs. But I'm oblivious, focused instead on the three brown bears galloping across the hillside in front. A mother and two cubs, they seem alarmed. Panning right, I see why. A huge, chocolate-brown male is ambling this way. He growls and grumbles as he follows them down into a ravine.
So where am I? Somewhere on Russia's far east coastline, between the Arctic Circle to the north and the Kamchatka Peninsula to the south, I know that much. But exactly where, I'm less certain. Our expedition leader Rodney Russ has taken us painstakingly through our location at each after-breakfast briefing, scribbling maps on a whiteboard, but the further we have travelled the more I've lost any handle on our bearings. With each day unfurling yet another panorama of rolling tundra and soaring crags, the wilderness has begun to blend into one seamless continuum.
And that is precisely the appeal. Russia's far east offers some of the world's most remote expedition cruising. A no-go frontier zone for visitors during the Cold War, the region opened up only in 1991/92 with Perestroika. But today, with the collapse of the military and transport infrastructure, access remains difficult for Russians and visitors alike. The dramatic coastline of fjords, islands and volcanoes is genuine wilderness and, with its abundant wildlife, an enticing prospect for those seeking the back of beyond. One of just 40 passengers on board the Spirit of Enderby, operated by Rodney's New Zealand-based Heritage Expeditions, I know how privileged I am.
At this very moment, however, I'm a little too concerned about bears to be counting my blessings. The big male has now emerged on our side of the ravine, much closer. Picking up our scent, he rears upright for a better view. It's an alarming moment. But then he drops down and galumphs away. Sometimes, it seems, even the great Russian bear favours discretion over valour.
It was five days ago that we set sail on our 12-night southbound cruise from Anadyr. Remote, even by Russian standards, this ramshackle port lies nine hours' flight east of Moscow and is the capital of Chukotka, a province three times larger than Britain with a population half that of Tunbridge Wells. The town fell into dereliction after the break-up of the Soviet Union - a desperate time, when residents would reputedly exchange an apartment for a one-way ticket to Moscow - but was reborn under the governorship of one Roman Abramovich. Belugas surfaced in slivers of ivory among the rusting hulks of military landing craft as we sailed out of the estuary.
'Good morning,' rang out Rodney's Kiwi tones, piped into my cabin early the next morning. 'You might care to know that we are currently surrounded by humpback whales.' Barely awake, we were soon scrambling on deck to watch the sea detonating with spouts and flipper-slaps. There were at least eighty of the great cetaceans - gathering for the annual migration south, reckoned our on-board marine biologist Katya Ovsyanikova.
The Spirit of Enderby, however, was heading temporarily north - on a supplies diversion to the tiny settlement of Ekviknok. Here, while the crew did their stuff, we set out to see the sights. First, a bus excursion to the Arctic Circle, marked by a metal arch across a barren road outside town. Then the museum, where a stern curator made us pull pointy protective slippers over our shoes before leading us from room to room like a troop of out-sized elves, pointing out shamanic carvings from the region's indigenous Chukchi people and a model punishment cell from the town's brutal Stalinist past.
By dawn the next day we were back on track southbound and nature had started to assert herself. As though at the overnight flick of a switch, the sea had come to the boil. The birds seemed to revel in the conditions, shearwaters, fulmars and tiny fork-tailed petrels angling across our bows and away over the white caps. On board, the seasoned expedition cruisers among us were unfazed, tucking into hearty meals as the dining room pitched and tossed. 'Be rigidly flexible,' was Rodney's mantra, warning that the weather in these parts may not always respect our itinerary. We clung to tables and railings and listened out for Tannoy updates.
By day three the weather had calmed, heralding our first Zodiac excursion. Slapping over the waves into Yuzhnaya Glubokaya lagoon, we watched bears hurry off the beach and gaudy harlequin ducks bob along the shoreline. Thereafter, we used the Zodiacs wherever a safe berth allowed. Sometimes we simply nudged around the coastline, admiring the wildlife and geology. At other times, we splashed ashore to stretch our legs, finding natural hot springs, thickets of Japanese stone pine (their nuts harvested eagerly by the Russian guests) and a wealth of flora, from which our German botanist, Elka Lindner, later identified the likes of sneezewort and northern geranium. The beaches were piled with ancient driftwood. Humanity, bar ourselves, was utterly absent.
On day four, we awoke at anchor in Bhukta Fjord, the surrounding mountains inverted in mirror-calm reflection. For the more energetic - or at least those most missing terra firma - this meant a hike. With Rodney at the helm, we strode over a headland, through a deep valley (comedy stream crossings optional) and up onto a stony saddle. Packed lunches were unwrapped on a ridge, watching a red fox tailing a blonde bear across a russet hillside and spying grey whales spouting in a distant blue bay. Later our boots dried in the engine room. It had felt good to step out, but equally good to regain the sanctuary of the ship.
Day five brought our bear adventure. Then on day six the weather turned again, keeping us too far from shore to visit a promised walrus colony - though we did glimpse gleaming tusks among the waves - and ruling out a scheduled visit to a Chukchi village, whose low dwellings receded in our wake as we ploughed ever southwards. The ship was now bucking and rearing. At lunch our waiters worked wonders, hardly losing a drop of soup. Meanwhile, with the hatches battened down, the birders wedged themselves into corners of the bridge, trying to lay binoculars on the likes of parakeet auklet and Laysan albatross as they whooshed past foam-flecked windows.
Sea time also allowed us to enjoy some of the on-board lectures given by our multi-talented and multi-national guiding team. From Katya, we learned about the indigenous culture of the Chukchi. From Olga Belonovich, we learned about the North Pacific's large killer whale population. And from Rodney himself, we gained an entertaining insight into the logistics of operating expedition cruises in these remote waters: the machinations of Russian bureaucracy; the punishing maintenance regime; and the challenges of keeping the ship provisioned. 'We haven't run out of wine yet,' he reassured us. 'But we don't have many Australians on board.'
French guide Samuel Blanc's talk was especially compelling. He described the Great Northern Expedition, which sailed from Kamchataka in 1733 under Danish commander Vitus Bering (he of the Straits fames). This epic venture was the first to circumnavigate the north Pacific. On its return, however, it was wrecked on the Commander Islands, 175km off Kamchatka. Bering was among the many who died, but his pioneering naturalist, Georg Steller, kept the survivors alive over winter and made it back in the spring of 1743. Steller gave his name to many remarkable discoveries from the expedition. Among them was Steller's sea cow, an enormous sea mammal related to the manatee. Alas, by 1768 - just 25 years later ­- this beast was extinct. Fur traders had flocked to the Commanders, plundering their marine life and slaughtering the sea cows as salted meat for their onward voyages to Alaska.
We were thus well briefed when, on day nine, we awoke at anchor off Bering Island, the largest of the Commander Islands and the very place where the ill-fated expedition had foundered. What's more, the weather gods were now with us, promising two days of calm sea and sunshine for our explorations.
On the island's north cape, we hiked a headland to gaze down on beaches crammed with sea mammals. Northern fur seals sprawled in their hundreds, their ranks punctuated with knots of larger Steller's sea lions and clusters of dozing sea otters curled up like cats, while Arctic foxes trotted about in search of titbits. In the rugged southwest, we cruised around the teeming seabird colonies by Zodiac. Tufted puffins commuted to and from their cliffs, kittiwakes clamoured from the ledges, and emperor geese flew southward in honking skeins, as though urging us to follow.
Nykorsky is the only settlement on the Commanders, its tumble of buildings today home to just 613 people. Virtually abandoned after the 1990s break-up of the Soviet Union, it has received a new lease of life through conservation. As we walked the shoreline, Olga - who lives here when not guiding cruises - explained how the islands now form a protected marine biosphere, with numerous projects focused on conserving their astounding marine biodiversity. Our stroll ended at a statue of Vitus Bering, gazing out across his own burial ground. "Tourism can help conservation, if tour operators are careful," explained Olga, as a snowy owl quartered the tundra ahead. "Tourists will remember their visit forever." She wasn't wrong.
That afternoon, with two days remaining, we set sail back towards mainland Russia. The jagged peaks of the Kamchatka Peninsula lined up along the horizon ahead, and we spied the dorsal fins of roving orca pods slicing through the flat-calm sea beneath them. I reflect that this was the very route of Steller's final voyage, when he bore with him tales of new lands and left behind the bodies of his companions. Our homeward journey would be rather easier. In two days' time, we would dock at the modern port of Petropavlosk-Kamchatskiy, where a flight home awaited.
But there were still wonders in store. Dawn on our penultimate day found us anchored off the mouth of the Zhupanova River. The backdrop was improbably chocolate box, complete with a picture-perfect snow-capped volcano leaking a single plume of smoke across the sky. As we set out by Zodiac for the last time, nosing past our first forests in a fortnight, a huge bird appeared overhead. There was no mistaking that piebald plumage and yellow hatchet bill. It was a rare Steller's sea-eagle, the largest of the world's eagles and a living embodiment of this magnificent wilderness.
If Steller is still turning in his grave over the demise of his sea cow, I reflected, perhaps he might be comforted to learn that his eagle is still here. He may find much of the world unrecognisable since the 1740s but this wild corner would, I suspect, feel pretty much as he left it.
Saving spoonies: Heritage Expeditions and conservation
The Russian Far East is home to one of the world's most endangered species. The spoon-billed sandpiper - nicknamed 'spoonie' by conservationists - is a diminutive shorebird, named for the shape of its beak, that breeds only at a select few sites along this remote coastline.
It migrates to spend winter in the estuaries of south-east Asia, where hunting and habitat loss have caused populations to plummet. Today no more than 250 breeding pairs remain. Rodney Russ - who has a background as a conservation biologist with the New Zealand Wildlife Service - has played an important role in helping safeguard this bird from extinction.
It was the guide and passengers on a Heritage Expeditions cruise who first discovered a new breeding population of spoonies during a shore excursion. And, in a project to boost wild populations by captive breeding, it was aboard the Spirit of Enderby that spoonie eggs were transported in incubators to Anadyr and subsequently flown to Slimbridge, England, where the Wildfowl and Wetland Trust has already successfully raised a number of individuals to breeding age.
Heritage Expeditions is recognised by Birdlife International as a Birdlife Species Champion for this work. The company continues to support work at the Chukchi village of Meinypil'gyno ­- close to the most important breeding sites - where a reintroduction programme is currently under way.
Category:
General News